Bright WARM Fingering 80/20 Mini Kit; HALF THE DAMN LITTER
Regular price
Sale price
$80.00 USD
Unit price
per
Sale
Sold out
The WARM half of the BRIGHT Palette on yummy Fingering 80/20 minis?! YOU BET. This 10 colorway kit is 200 grams of yarn, so buckle up. These shocking, saturated, luminous hues are here to take you and your knitting somewhere playful and magical; like the monkey house at the zoo. Really- these brights are just waiting for their chance to hop on your needles and make your eyes do the ~*thing*~

10 different 20g mini skeins. This set is FINGERING 80/20 blend. From left to right, colorways are as follows: 
Really Fuchsia
Noah
SQWRL POWER
Neon Watermelon
Blood Orange
Happy Orange
Rugrats VHS
Egg Yolk
MMM-Yellow!
Citron
Fingering 80/20 is hitting 80yds per 20g skein, 800yds total per kit, yes for HALF THE DAMN LITTER (see BRIGHT COOL for the other half!). 2-ply on this base, with 80% SW Merino and 20% Nylon. Let these kits make your day!
Kits are the only thing in the shop that are not dyed to order, what ya get is what ya get! What's in stock is what we've got.
ps- no kittens play with YOUR yarn, just with MY yarn xoxox 
Shipping & Returns

Shipping prices are determined at checkout. As for returns, if you have any issues with your order, please message babycatyarns@gmail.com to get it sorted out! I'm always more than happy to help!
Care Instructions

All fiber dyed at Baby Cat is 100% superwash wool, or a nearby blend. For care, it is recommended you hand wash warm, and dry flat! No dryers, no bleach, no aggressive aggitation-- other than that, should be simple as pie!
Share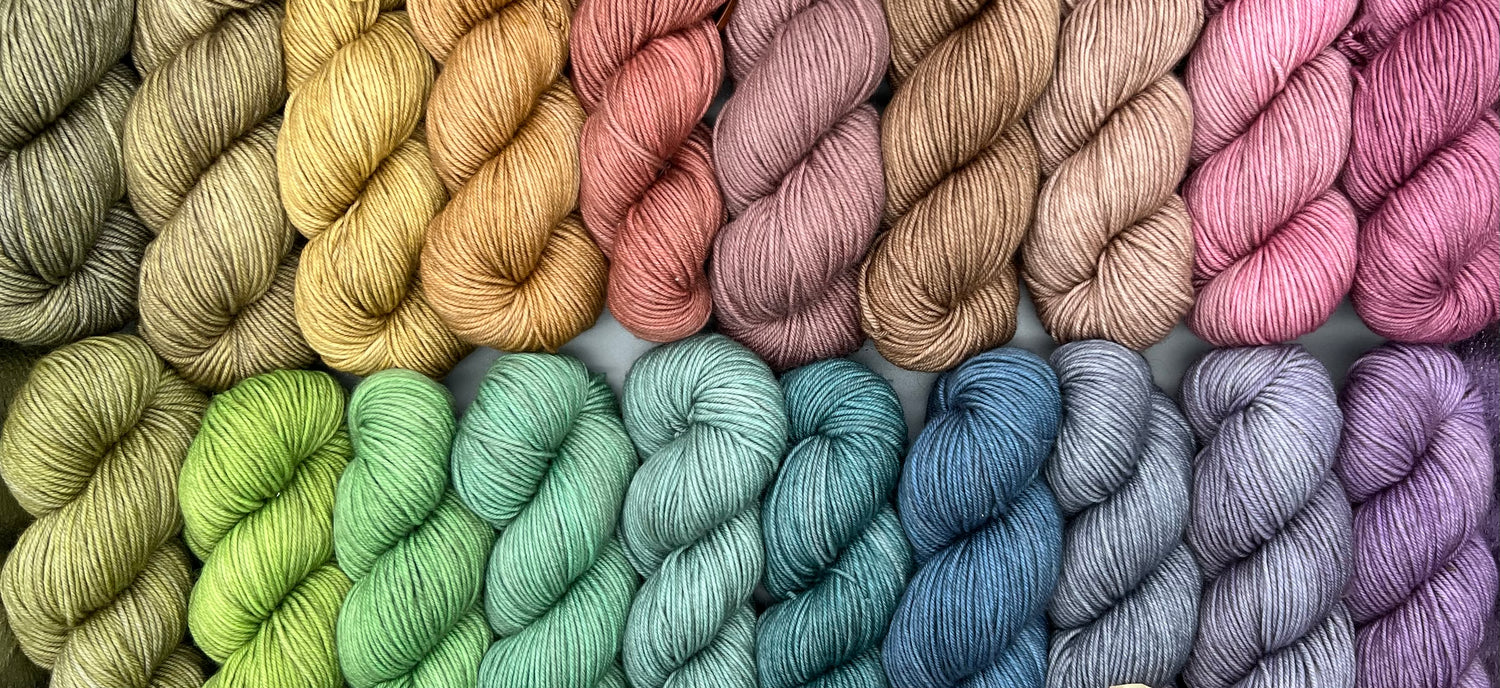 Gentle
As always, every color at Baby Cat is available across all bases, in any quantity. Gentle is just waiting for its turn to shine!